Fabio Sarcona, Web Developer, Italy
That's it, at the end of this article you will be able to create an animated text but above all know Eager by Cloudflare and you'll wonder how you ever did without at least until now!
Yes, Ok Fabio, but what Eager?
Eager is a tool that allows you to improve your website with dozens of free apps that you can install in seconds without touching a single line of code. The available extensions are so many and I can assure you that some will make you jump out of your chair, then I advise you to keep you strong!
To understand the power of Eager, you just think that you can add hover effects, animations, slider, live-chat and more, with the same ease with which you install an application on your phone.
No matter if you are a developer or a newbie, you can add effects and new features to your site with an ease never before seen. You can choose between many applications, you can easily customize thanks to an easy and intuitive interface, and preview the result.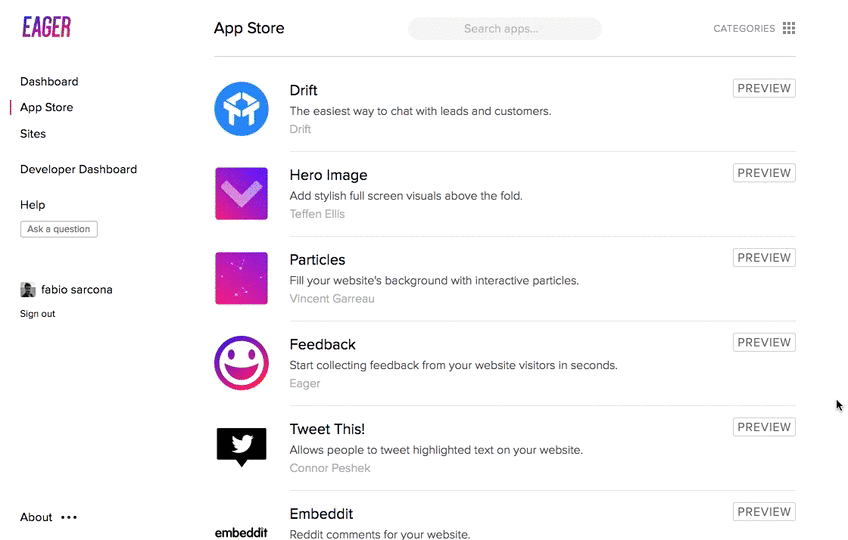 After this brief introduction, it's time to get to the heart of this tutorial, because I want to show you how you can easily create animated text using Eager, this way you will see for yourself what this means is revolutionary!
Eager connected to the site and click on the button Get Eager
Here you can select the platform where use of Eager applications. For this tutorial we'll use the Embed Code feature because I do not like to use plugin, I prefer to keep light my WordPress installation, but if you prefer, you can use the free WordPress plugin by clicking the button WordPress
Now we need to copy and paste this line of code in your child theme of the header.php file (if you're not using it, you should create it) before chiusare the tag </ head>
Eager, to this point, will have recognized your website and then you are ready to install your first application. For this tutorial, I chose Typist, an application that allows you to create animated text. Click on the preview button will open a new window where you can customize your application.
To make it even easier to use Eager I created this video:
As you saw in the video, it was really easy to create an animated text, and if you think that all this is possible with a line of code, you can easily understand the power of this truly amazing tool.
You can play with other applications, add new features to your site without inflating your site with thousands of plugins, and all at no cost!
So, have you started to love even you Eager? 🙂
now it's your turn..
What do you think of this tool? you think you use it?